Podcast: Play in new window | Download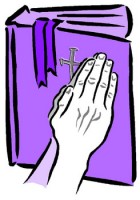 Many Christians left their churches feeling something is wrong; brokenhearted, with great grief they left, disappearing into their homes clutching their Bibles and seeking Lord Jesus.
2 Thess 2:3-4, — "Let no man deceive you by any means: for that day shall not come, except there come a falling away first, and that man of sin be revealed, the son of perdition; 4 Who opposeth and exalteth himself above all that is called God, or that is worshipped; so that he as God sitteth in the temple of God, shewing himself that he is God."
Pastors have moved away from a biblical foundation as they seek to build mega churches and dream to become the next Joel Osteen of the world. America is the largest mission field in the world. While preachers are told that this generation is unlike any generation that ever lived before and therefore preachers need to change their approach to draw people into their churches and change their messages.
For sure, this is beyond doubt, the truth. Modern people are exactly analogous to every human that ever lived; and probably the most rebellious full of sin. Furthermore, this generation has more opportunities to practice their sin without public condemnation because, well, everyone is doing it. This generation is exposed to more sin in one day than past history in a lifetime.
The entire world has become a culture of sin and rebellion and many preachers have joined the revolt when they let the foundations of the Word of God fall and took Jesus out of their pulpits; churches became entertainment centers built upon doctrines of devils. Preachers became circus masters.
Preachers were told to remove the crosses, hymnal, Bibles, and all religious articles out of the church; don't talk about Jesus, just speak of their physical needs such as the gospel of self-improvement and visions of financial glory. Christians drawn by free food, marriage support, tithe, weight loss, contemporary prayer, trance dancing, rock bands, ball room dancing, Karate, Yoga classes, and topics similar to these.
Jesus is removed and the Bible changed and people are spiritually blinded. Preachers are elevated by the world to "Life Coaches." The people are warehoused in entertainment centers. Real Saints are standing with Jesus in their homes; this is the condition of the many churches today.