Christians with Demonic Problems

Podcast: Play in new window | Download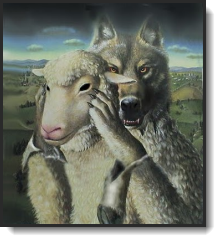 There is an alarming onslaught of deceiving spirits attacking the Church of Jesus Christ. The Apostle Paul reveals these special manifestations of evil spirits through prophecies that point to the deception of Christian believers in the latter times. These deceptions are showing up in the supernatural realms. Many are following teaching ministers that are sending forth an army of teaching spirits that are leading people away from their biblically based spiritual knowledge of Jesus Christ.
Nevertheless, spiritual blindness and through lack of knowledge, many are not able to carry out a full war against this army of wicked spirits. Many are shrinking from the subject of demons and call the war against them not credible. They believe that if Jesus Christ is preached, it is not necessary to give attention to the existence of the devil. They think that they can ignore him. (Jam. 4:7-8), "Therefore submit to God. Resist the devil and he will flee from you."
Many Christians have never been taught the power of Jesus Christ. They believe that they never enter into direct conflict with Satan and his hosts. The church has actually been blinded by the powers of darkness and multitudes are being bound. Scriptural answers are not practiced in the lives of the people.
The clash between Satan and Jesus Son of God in the first Gospel is an ongoing one. Satan is characterized as "the strong man" and Jesus, the Son of God, in that He casts out demons by the Holy Spirit and brings people into the sphere of God's reign, as one who "binds" him and "plunders his goods" (Matt. 12; 28-29 cf. also 8:39). Conversely, Satan and those who do his bidding are depicted as doing violence to the kingdom of heaven as "plundering" it (Matt. 11:12). A case in point, is Satan's enlistment of Peter in an effort to put Jesus at cross-purposes with his Father and to turn him away from the path that leads to the cross, (Matt. 16:21-23).