Podcast: Play in new window | Download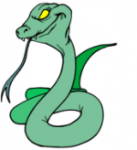 God has permitted Satan to maintain a degree of authority to deceive the nations. God originally gave humans ruler ship, THRONE, POWER AND AUTHORITY over the earth. Willing people give Satan THE RIGHT to have rule over their lives. Other words, originally, the creation of the earth, God gave humans dominion over the earth. When Adam and Eve obeyed Satan and disobeyed God, they handed their soul, life and authority to Satan.
In Genesis Gen 3:15, "And I will put enmity between thee and the woman, and between thy seed and her seed; it shall bruise thy head, and thou shalt bruise his heel."
Serpentine Spirit
This scripture places an opposition existing between humans and the Serpent, Satan. It is evident that Satan, who motivated Adam and Eve but God in his endless mercy has put enmity between people and Satan. Though all human beings love his assistance, they become enslaved by his power. Romans 3:23, –"For all have sinned, and come short of the glory of God." Then, Romans 5:12, "Wherefore, as by one man sin entered into the world, and death by sin; and so death passed upon all men, for that all have sinned."
Who can be saved? All serve Satan and are born under the power of original sin. From birth, Satan controls his soul, body, goods, etc. Therefore, the answer to the fallen state of people continues to be God's promise of the Messiah shall bruise thy head, and shall bruise his heel.
Who is He . . . the seed of the woman, the Person that will come by the woman and by her seed alone, without the sperm of a man? The Messiah, Jesus Christ would be born of a virgin; He, the Messiah, Jesus, is the woman's seed God promised to His fallen creation and redemption from his sin state. Jesus was born to Mary, a virgin, according to the Word of God in Luke 1:32-35), "The Holy Ghost shall come upon thee, and the power of the Highest shall overshadow thee: therefore
also that holy thing which shall be born of thee shall be called the Son of God, 32 He shall be great, and shall be called the Son of the Highest: and the Lord God shall give unto him the throne of his father David: 33 And he shall reign over the house of Jacob for ever; and of his kingdom there shall be no end." Matthew 1:21, –"And she shall bring forth a son, and thou shalt call his name JESUS: for he shall save his people from their sins."
The Messiah, Jesus Christ died on the cross by the power of demon possessed men. He sacrificed himself to destroy Satan's power of eternal death. Thus Jesus bruised his head and annihilated his power and Lordship over all who receive His free gift of salvation. He died to for mankind to restore their souls for eternal relationship with God.
There simply is no other god or pathway to God but Jesus. John 14:6, — "Jesus saith unto him, I am the way, the truth, and the life: no man cometh unto the Father, but by me."