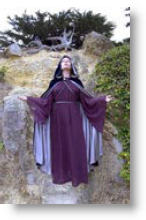 "Verily, I say unto you, Whatsoever ye shall bound on earth shall be bound in heaven. And whatsoever ye shall loose on earth on earth shall be loosed in heaven. Again I say unto you, if any of you shall agree on earth as touching anything that they shall ask, it shall be done for them by My Father which is in heaven. For where two or three are gathered in My name, there I am in the midst" Matt. 18: 18. 19. 20).
SALEM
An African evangelist called the author about Halloween in Salem Massachusetts. The evangelist declared many old Christian churches had been painted black. He witnessed a strange parade snaking itself down the street. The people were dressed in bizarre evil outfits and were carrying black draped caskets on their way to the cemetery to party. "They need you there, Dr. Holliday." "I know," I replied, "these demonic events are happening everywhere. Some churches join the Devil's biggest day to party."
GOVERNMENT WITCHES FORCE OF EVIL
When you are in Salem, Massachusetts, you will notice that witchcraft is celebrated year round and even the police cars have little witches on them. Witchcraft is treated as harmless fun. On Halloween Eve, 1981, Mrs. Laurie Cabot, Official Witch of Salem, Mass., appeared on Good Morning, America to promote The Annual Witches' Ball held on Halloween each year. Middle-aged, very attractive, she just did not look like the hooked-nose hag riding a broomstick across the full moon of folklore. Jet black hair framing Elizabeth Taylor type made-up eyes (with the indispensable long black flowing robe and scepter) displayed the face of the modern witch. She embodied an appealing, almost respectable, contemporary concept of Satan's tremendous force of evil.
"Witches from all over the country gather for their annual Witches' Ball at the Metro Club in Boston," Mrs. Cabot related while being filmed during preparations for the Ball. As she talked in a sweet melodious voice, weird hypnotic music pumped in the background. Disco lights continuously throbbed through the dimly lit room, giving an eerie feeling of expectation.
"When people think about witches, the thing they probably think about is Webster's Dictionary's definition which says 'an ugly old hag who cavorts with demons or devils or a person who makes a pact with the devil with blood," Mrs. Cabot related. "Of course, that's not true at all. People think all kinds of things that are weird and odd because the word "witch" has been used by other societies and cultures as a disposal for the ills of the earth. Also, everything that is contemptible in any form is attributed to the word 'witch' or the people. The word 'witch' comes from the words magus, magi, and mage, which simply mean 'a wise person . . . a seeker, or knowledge."
The governor of Massachusetts had proclaimed Mrs. Cabot Official Witch of Salem ("Witch City"). She had been calling herself a witch since she was 16 years old. Her childhood, she claimed, was full of mystic and psychic experiences. Her two daughters, Jody and Penny, are also witches, as are about 350 other women who live in Salem. Witchcraft has thrived in this New England village where just three centuries ago 200 women were put on trial accused of being witches. Nineteen of them were hanged for the offense.

Download the free ebook about Halloween shown above just click here